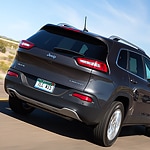 When people trek through the great outdoors, they often like to do it in a Jeep SUV. That's why the Cherokee is one of the most popular compact SUVs available. This is a capable SUV that can go just about anywhere. Let's examine what makes the Jeep Cherokee a capability leader.
The Cherokee is one of the few SUVs that offers three unique 4X4 drive systems. Each of these 4x4 drive systems is designed to allow the Cherokee to master all-weather conditions. This comes in handy when the weather gets rough in the Honesdale area. Also, the Cherokee is Trail Rated by Jeep. That means the vehicle is able to excel when it comes to traction, maneuverability, ground clearance, articulation, and water fording.
Get more from an SUV. Take a test drive of the amazing Jeep Cherokee SUV at B & B Chrysler Dodge Jeep Ram. This is the one SUV that will take you to new places.